MovieIndex requires an Intel processor, and a system from Lion (Mac OS 10.7) to High Sierra (10.13)
Version

1.7
How to use
Drag'n'drop a file, some files or a whole folder on MovieIndex, and your will obtain a contact sheet from each one of your videos.
(end of the "how to" ;-))
---
Options : Get a contact sheet…
…with big thumbnails.
…with medium thumbnails.
…with little thumbnails.
……with little thumbnails and a poster frame.
---
…to store onto hard disk (Screen Resolution's contact sheet).
…to print (High Resolution's contact sheet).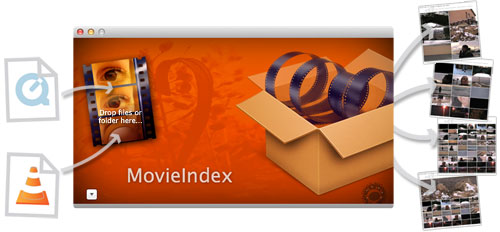 MovieIndex generates a contact sheet from all video types.
Handles every sort of videos, whatever QuickTime compliant (like .mov or ProRes, .m4v, …) or all others exotic videos (mts, mkv, avi, …ogv, webm).
New version 2.00: now, the application also supports modern video formats like the h265.
Always displayed images at the good ratio (not badly stretched!)
No comb's effect into images.
Two quality modes, depending on the purpose of your cataloged video: to store onto disk or to print.
And some classical customizable options: choose the size of images, their number, page background color, which captions you want as accompaniments and their size, …
Optional features: Can automatically adjust the number of thumbnails of your "contact sheet" according to the duration of your video (ie: what is the point of generating 64 thumbnails for a 10-second movie? ;-))
Optional features: Added an 'derush' option: to extract a thumbnail every (xx) seconds (…useful to identify your rushes before editing).
Optional features: Can generate an additional thumbnail for your Multimedia Hard Disk. If your device can display a thumbnail of your videos (ie: WD TV Live), so create it with your index page.
MovieIndex, …because a "cataloged video" is far more convenient to consult than the video itself.